Save $250 on an EV Charger for Your Home
To advance electric vehicle (EV) adoption and support clean transportation in New Jersey, the Board of Public Utilities has approved $3 million for in-home EV charging incentives. Residents can receive $250 for the purchase and installation an eligible Level 2 charger (models listed below).
Residents and businesses may also qualify for an up to $1,000 tax credit from the federal government for an EV charger installation. For information, visit the U.S. Department of Energy website Alternative Fuel Infrastructure Tax Credit.
Residents may also qualify for incentives to cover the Make Ready cost through their electric utility. For more information check with your utility.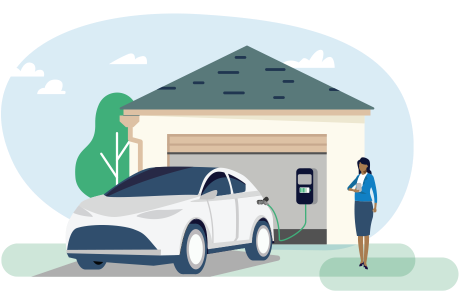 About EV Charging at Home
A Level 2 charging station installation requires a professional electrician to set up a dedicated 208-volt or 240-volt electrical circuit. Depending on battery type, charger configuration and circuit capacity, Level 2 charging adds about 15-35 miles of range per hour of charging time.
Eligibility Requirements for Home EV Charger
Eligibility Requirements for Home EV Charger
Submit these supporting documents with your application:
Proof of purchase of a Level 2 smart charger.
A scanned photo of the serial number on the charging equipment.
Copy of New Jersey driver's license as proof of residence and a unique identifier.
Valid NJ EV registration showing a residential address in New Jersey.
Charging station must be new and installed at the applicant's New Jersey residence.
Applicants can apply for up to two charger incentives through the program; however, a second incentive is available only if the applicant has moved to a new address.
Only one charger incentive is available per vehicle registration (tracked by VIN).
Charger must be Energy Star Certified as of 03/15/2023.
Eligible Charging Models
| Manufacturer | Model | Model Number |
| --- | --- | --- |
| Atom Power | PURPL | AP3P400-EVSE |
| Autel | MaxiCharger AC Elite Home 40A | MC40AP14S |
| Autel | MaxiCharger AC Elite Home 40A | MC40AP14I |
| Autel | MaxiCharger AC Elite Home 40A | MC40AP6S |
| Autel | MaxiCharger AC Elite Home 40A | MC40AP6I |
| Autel | MaxiCharger AC Elite Home 50A | MC50AHI |
| Autel | MaxiCharger AC Elite Home 50A | MC50AHS |
| Blink | IQ 200 Advance | IQW2-80U-M1-R1-N-25 |
| Blink | IQ 200 Smart | IQW2-80U-W1-N1-N-25 |
| Blink | MQ 200 | MQW2-50C-M2-R1-N-23 |
| Blink | Blink HQ 200 (Residential Unit) | HQW2-50C-N1-N1-N-23 |
| breezEV | breezEV L2B | EVC-L2-48A-L1 |
| BTC Power | 30-70 Amp Single Port | L2__-__240-16-__ |
| BTC Power | 30-40 Amp Dual Port | L2__-__240-15-__ |
| ChargePoint | Home Flex | CPH 50 |
| Cyber Switching | CSE1 EV Charging Station w/ 4G, 48A | CSE1-4G-BL |
| Cyber Switching | CSE1 EV Charging Station w/ WIFI, 48A | CSE1-WIFI-BL |
| Enel X | JuiceBox 32 Hardwire | N/A |
| Enel X | JuiceBox 32 Plug in | N/A |
| Enel X | JuiceBox 40 6-50 Plug in | N/A |
| Enel X | JuiceBox 40 Hardwire | N/A |
| Enel X | JuiceBox 14-50 Plug in | N/A |
| Enel X | JuiceBox 48 | N/A |
| Joint EVSE | EVC10 | 16AC, 32AC, 40AC |
| *Joint EVSE | EVC11 | 16AC, 32AC, 40AC, 48AC |
| *Joint EVSE | EVC12 | 16AC, 32AC, 40AC, 48AC |
| *Joint EVSE | EVC13 | 48AC, 70AC, 80AC |
| LiteOn | 32 Amp | L2-IPWE |
| LiteOn | 48 Amp | L2-PAX48WF |
| LiteOn | 80 Amp | L2-LI80 |
| *Phihong | 32A Wall Mount | N/A |
| Phihong | 48A Wall Mount | N/A |
| *Phihong | 80A Wall Mount | N/A |
| Phihong | 48A | N/A |
| Tellus Power Green | TPG AC L2 | UP160J |
| United Chargers Inc. | Grizzl-E Smart | GRS-14-24-P, GRS-6-24-P |
| *United Chargers Inc. | Grizzl-E Smart Commercial Bundle | GRS-14-24-CL, GRS-6-24-CL |
| Wallbox Chargers | Pulsar Plus 40A | PUP2-U-1-5-N-002 |
| Wallbox Chargers | Pulsar Plus 48A | PUP2-U-1-6-C-002 |
*chargers that are not Energy Star Certified will no longer be eligible for the incentive as of 03/15/2023