Latest News
Charge Up New Jersey program funding has been fully allocated. Vehicles ordered, purchased, or leased up to 9PM ET on November 21, 2023 will be eligible for a rebate.
Dealers will have 14 days to submit paperwork for any eligible transactions. In acknowledgement of the Thanksgiving holiday (November 23, 2023), vehicles ordered, purchased or leased on or after November 17th up to the closure on November 21st will have until 9PM ET, December 8th 2023, to submit paperwork to assure funding.
Please direct any questions or concerns to chargeupnj@energycenter.org or call 877-426-2474.
Charge Up New Jersey promotes clean vehicle adoption in the state by offering incentives of up to $4,000 for the purchase or lease of new, eligible battery electric vehicles (EV) and $250 for purchasing an eligible EV charger.
By shifting away from gasoline and diesel use, it creates many environmental and economic benefits, including less air pollution and reduced greenhouse gas emissions.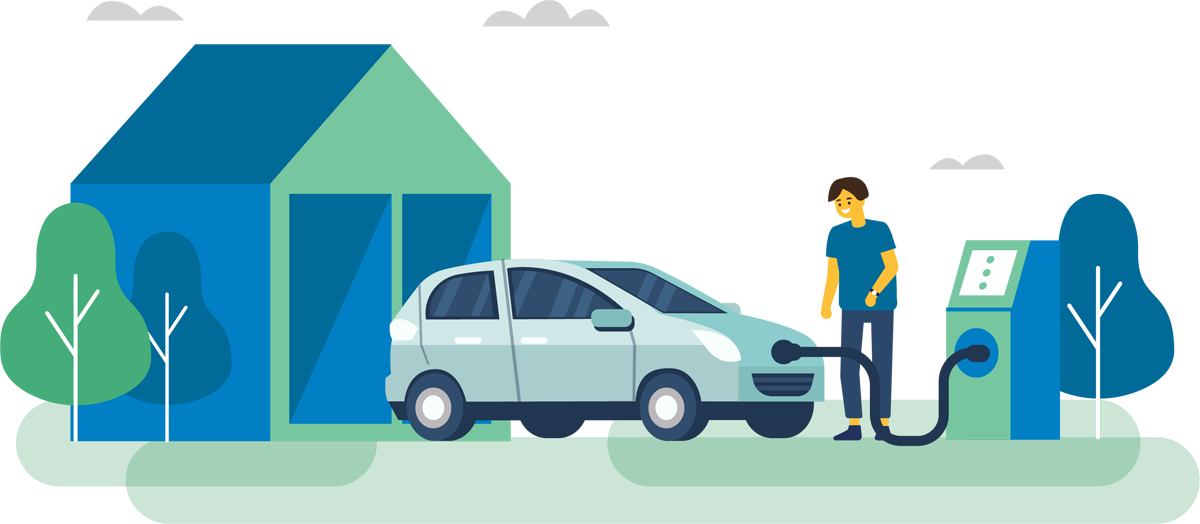 Available Funding
See real-time total available funding status for EV and charger incentive programs.
Please note: Funding is reserved only for EV and charger applications that are successfully submitted. Funding will be replenished in the event a submitted application is cancelled. The funding amount of $90 million for EV incentives includes total funding allocated for fiscal years 2022, 2023 and 2024 ($30 million per year).
How Much Can I Save?
Residents can take advantage of the Charge Up New Jersey incentive directly at the car dealership or showroom and apply the incentive instantly to their purchase or lease at the point-of-sale.
With the purchase or lease of a new eligible electric vehicle, you can receive $25 in incentives per mile of EPA-rated all-electric range, up to $4,000.

You may also be eligible for a federal tax as high $7,500 for a new EV. For information, visit the U.S. Department of Energy website EV Tax Credits.
*The total incentive amount for an eligible vehicle is $25 per mile of EPA-rated all-electric range, as determined by fueleconomy.gov up to $4,000 for vehicles with a MSRP under $45,000, or up to $1,500 for vehicles with a MSRP between $45,000 and $55,000. Vehicles with an electric range of over 200 miles are eligible for an incentive of up to $4,000, depending on vehicle MSRP. See the program Terms and Conditions for more information on incentive amounts.
How to Claim Your Incentive
Claiming your incentive is easy! All you need to do is:
Your dealer will submit the application on your behalf and the incentive will be instantly applied to the cost of your new vehicle. An application for the EV charger incentive can be submitted through the customer dashboard. See the EV Charger Incentive page for details.